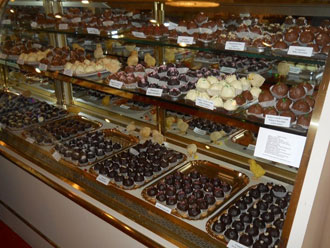 Since 1978, we at Lambert Chocolatier have been making fine chocolates from our location in downtown Sayre, PA.
Lambert's Chocolate has grown at an incredible pace, and our chocolate has been shipped throughout the country and beyond.
One taste of our milk, white, or dark chocolate proves why the Binghamton Press titled our product, "Chocolate for the Choosy."
Our quality has never been compromised, and we continue to use only the finest ingredients in our famous truffles and pecan-loaded turtles, made with caramel using fresh butter and cream.

Customers continue to be amazed at the variety of shapes and sizes we mold in both hollow and solid forms. We span the holiday seasons, opening in November and remaining through spring.
Lambert's is located in Sayre, PA, on busy Desmond Street. Inquiries can be made by or calling the numbers listed below. Visit us, ask for a sample, and see for yourself why so many people return year after year.